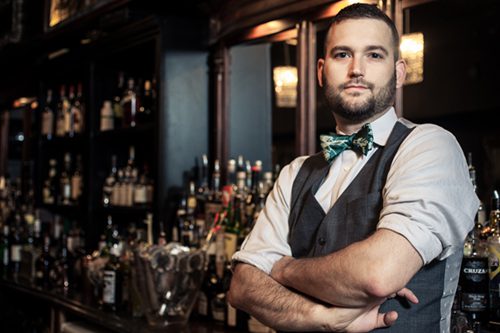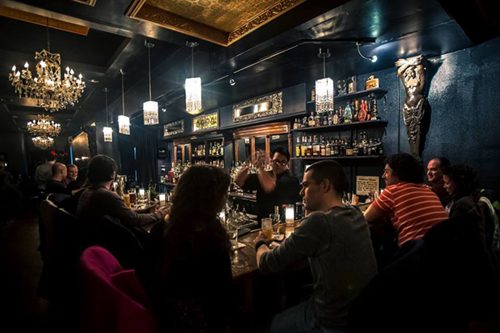 Let's say you have a client in town for a big meeting. You finish up, and you want to take them somewhere for a friendly adult beverage. It has to be a spot that is fun, interesting and unique so they go home with their right impression of you and your company.
So where do you take them? We suggest The Oakland.
The Oakland in Ferndale is celebrating its third anniversary this week. And trust us, you're going to want to go there if you've never tried it or another time if you have. Owner Sandy Levine has created one of the most dramatic locations to enjoy a well-poured beverage in the area – perhaps even in the state. Yes, it's that cool.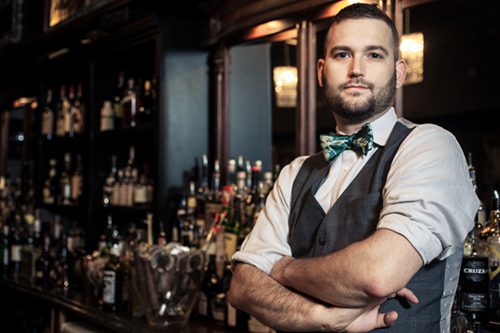 But, for the uninitiated, you'll have to know a few things. Dress up – because this is a classy joint and everyone looks good. Come ready to try new things – because the bartenders are that educated and creative. And don't wear your sunglasses – the interior is dark on purpose. You'll forget your worries and become instantly relaxed…once your eyes get used to the darkness inside. Again, trust us.
The Oakland's full name is The Oakland Art Novelty Co. and its third-anniversary party will feature a host of surprises. There will be the exciting guest bartenders, the $3 rotating drink specials and a special champagne punch and toast to the anniversary.
Some background: Established in 2011, The Oakland Art Novelty Co. was the first bar of its kind to revive the concept of pre-prohibition era craft cocktail lounges across metro Detroit. Here's its description: "Its secretive speakeasy style and unforgettably lavish 1920s interior make it a favorite among first-time visitors while an accommodating staff, personalized service, high quality ingredients and carefully crafted drinks keep crowds coming back."
And it has tons of accolades – all well deserved. The Oakland was recently named among Esquire magazine's Best Bars in America; the Top 15 Secret Bars You Need to Visit by The Huffington Post; it has been voted Best Cocktail Bar by Real Detroit Weekly and Ambassador magazine; is a Best Bar for a Classic Cocktail by the Metro Times; and Best Location for a First Date; Best Neighborhood Bar and Best Place for a Nightcap After the Show by Hour Detroit magazine.
Its staff is equally awesome. Bartender Kaytee Querro is an Hour Detroit 2014 Best Bartender and Shane McGrath was named Best Bartender in Detroit by Eater, one of the Top 25 Bartenders in the Country by The Daily Meal and Best Male Bartender by the Metro Times.
During Tuesday's party, guests can Expect hourly guest bar appearances by Rick Lane of Roast, Scott Poole of The Sugar House, Bailout Productions own Joe Rob, Adrianne Martin and Jackie Foucha of Bigalora (formerly of The Oakland) and Mike Sears of Public House, each offering up their individual interpretations of an Old Fashioned. The Oakland will mix up and bottle a French 75 cocktail for the occasion, as well as host a champagne toast.
"I want to celebrate our place in the community and all those who have become friends over the 3 years we've been here," said Levine. "We'll be on the opposite side of the bar that night. So we've enlisted the help of some trusted friends."
Can't make it? Here is Sandy's take on a traditional Old Fashioned recipe. All of the bartenders will be making their own take on the classic cocktail Tuesday, the official anniversary party. Wish you were there!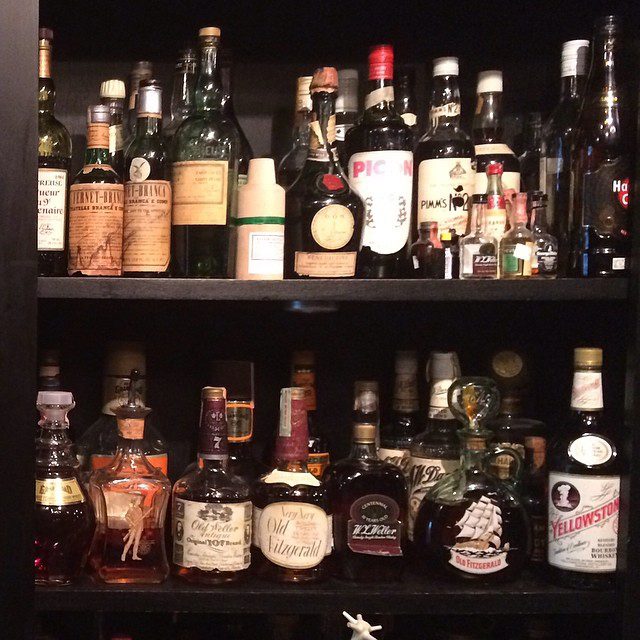 Old Fashioned
Makes: 1 drink
1 sugar cube
1-2 dashes bitters (see guide below)
2 ounces rye or bourbon
1 orange
Dissolve the sugar in a very small splash of water and the bitters. Add whiskey and a few ice cubes. Stir. Squeeze an orange peel over the surface of the drink to express the natural oil of the orange.