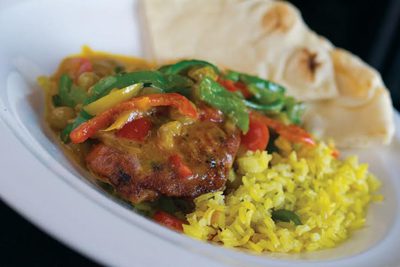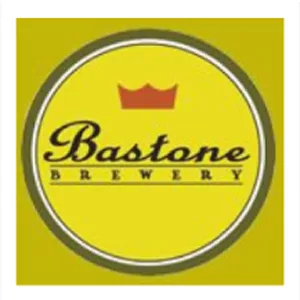 This summer might not have the heat of previous seasons, but it definitely has some of the most beautiful days to enjoy a meal outside.
Bastone Brewery makes that easy by having one of the largest patios in Royal Oak. To that end, the restaurant has created a special Summer Lunch menu, a perfectly paired Burger & Brew menu and a new Summer Cocktail menu.
Chef Robert Young and Brewmaster Rockne Van Meter are the men to thank for these interesting new ways to get outside. The drinks menu is particularly fun; there are great names such as "Rhubarbara Bush" and "Busta Limes," all made with fresh juices and house made bitters.
Van Meter developed two new seasonals and both are available at Bastone and its neighbor, Monk, right now. They are the Belgian Blonde and Black13. The Black13 is a Belgian style dark, strong ale with complex fruit and malt aromas, chocolate, roast and banana flavors, while the Belgian Blonde has a hazy golden color and is moderately fruity from a fermentation that included banana.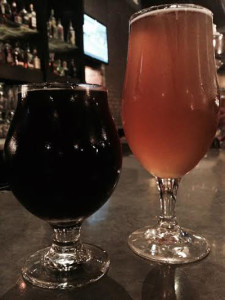 Some background: Bastone first opened its doors in May of 2004. It is named and styled after the famous Belgian city (though the spelling has been simplified). This  restaurant and brewery is housed in a 1930's era building, the exterior of which has been restored to its original art deco look in association with the State Historic Preservation Office.
Inside, the high arched ceiling, wood floors and white subway wall tiles create the comfortable yet sophisticated atmosphere of a European brasserie. The menu starts with Belgian-style favorites including Waterzooi, Steamed Mussels and Pomme Frites, then expands to sandwiches, hearth-baked thin-crust pizzas, seafood, salads and more. Its beers are hand-crafted on-site with malt, fresh hops and Belgian-style yeast strains for flavor and character. The selection includes Blonde, Pilsner, Wit, IPA, Dubbel, and Seasonal.
Chef Young shared this recipe from the Summer Lunch menu if you want to try to make it at home. Remember to take it outside for an authentic experience.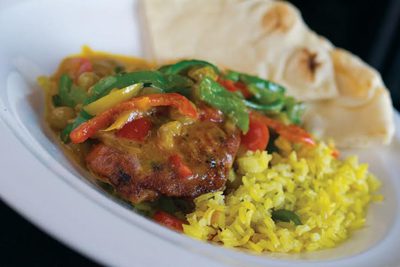 Curry Chicken
Ingredients:
– ½ red pepper
– ½  green pepper
– ½  yellow pepper
– ½ onion
– 2 ounces of butter
– 2 ounces of flour
– 1 teaspoon granulated garlic
– Pinch of white pepper
– 1 pint chicken stock
– 12 ounce can coconut milk
– Curry powder to taste
– 4 – 6 ounces of boneless chicken breasts
Steps:
1. Chop bell peppers and onion
2. Cook in melted butter
3. Add chicken stock and coconut milk gradually until desired thickness
4. Sear the chicken breasts in a hot pan and deglaze with a little of the remaining chicken stock
5. Place in oven until internal temperature of 190 degrees
6. Remove from oven and pour sauce over
7. Serve over rice