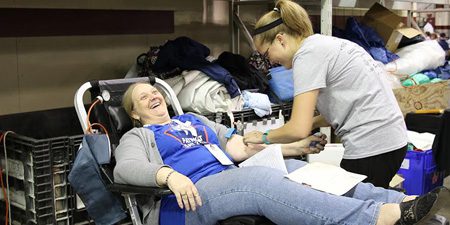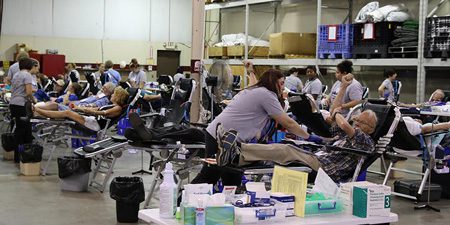 Focusing on the future is key to any company's success – but so is honoring the past, honoring the people who sacrificed and honoring the nation where you operate.
More than 565 donors came to donate blood at the Spirit of America Blood Drive at Michigan International Speedway, serving as a strong reminder that America will "never forget" the events of 9/11.
The blood drive at the racetrack began as a tribute in 2002 in honor of the victims and heroes of 9/11. Since its inception, the Spirit of America blood drive has collected more than 10,709 pints of blood, positively affecting more than 32,127 lives.
In 2016 alone about 510 units were collected on Sunday. Those donations alone can potentially save 1,530 lives. (Each unit can be transfused to up to three people.)
"I can't say enough about the countless efforts of donors, volunteers, sponsors, Michigan Blood and MIS employees and the many others who helped make this event a success," MIS Director of Guest Services and Spirit of America founder Tim Booth said. "A special thanks goes out to all the blood donors. This drive wouldn't be possible if it weren't for their generosity."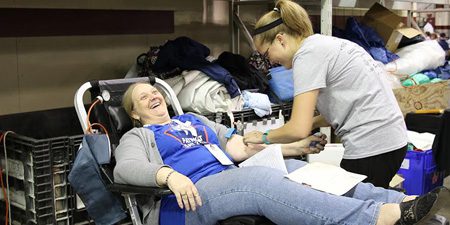 New in 2016, each donor received a card of remembrance with a short biography of an individual who lost their life on 9/11. The donor could then place a red star next to their victim's name on the wall of remembrance.
MIS has partnered with Michigan Blood, a nonprofit, community service organization founded in 1955, to host the blood drive for the past four years.
Those who attempted to donate got the opportunity to travel by MIS tram around the track, through the tunnel to the pits, and into MIS's Home of the Brave, a 4,000-square-foot multi-media exhibit featuring "as it happened videos," Presidential letters, magazines and newspapers and additional tributes.
Donors were also treated to a breakfast or lunch presented by CP Federal Credit Union in the Champions Club overlooking the track .
At the conclusion of the tour, donors took an up-close view of more than 3,000 American flags proudly displayed at Unity Field to honor the victims of 9/11. The flags, each representing victims of the 9/11 attacks, were placed in the speedway's Lot 10 by community volunteers, Columbia Central High National Honor Society students and Michigan International Speedway staff.