Anyone who works with a computer – and that's pretty much everyone these days – has searched for just the right font to help them tell a story, communicate their ideas or illustrate signs for everything from "for sale" notices, new-store openings or even television shows.
Chances are, House Industries design a favorite typeface, font or fashion that the average office or household uses daily. Its design studios have become so beloved that people not only use their products but purchase its household products, such as clocks, chairs and more.
The near-obsession level interest in House Industries, its process and its theories on design have grown to the point that the company and its founders recently authored a book and put together a special exhibition of its work for Dearborn, Michigan's Henry Ford Museum of American Innovation.
Opening May 27, "House Industries: A Type of Learning" is a three-month exhibition that lets the viewer into the minds of House founders Andy Cruz and Richard Roat. The exhibit, which hosted a media preview recently, is a must for any designer, writer, manufacturer or packaging expert. The exhibit is both a tour of the company and its inspirations as well as a laboratory of sorts, allowing the viewer to come up with new ideas based on what they'll see in the vibrant displays.
Founded in 1993 by Cruz and Roat, House Industries is a design studio known worldwide for its eclectic typeface collections and related products. Their work is defined by "an obsessive devotion to craft and is marked by a genuine love for the art, history and culture that inspires them," according to the company's website.
So while you may not know its name, you've likely seen its work. For example, its collaborators include luxury accessories manufacturer Hermes, the retro signage for the Jimmy Kimmel show, the front of the iconic New Yorker magazine and album covers for artists ranging from Adele to John Mayer.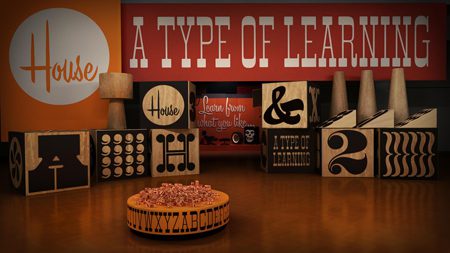 This exhibit is not only new to the Henry Ford, but it has never been seen before and is a labor of love for Cruz, who has been in Dearborn, Michigan  putting it together. It features a variety of his influences, his favorite pieces and the things he never expected to create – such as furniture, clocks and other unique household objects.
The Henry Ford describes the exhibit as showing off House's "love for drawing letters combined with childhood interests" and how that became a gateway for House Industries to explore everything from fonts and fashion to ceramics and space travel.
The exhibit is an explosion of sound, saturated colors, dramatic graphics and fascinating objects. It starts with a bang: A display of everything from a robot from the beloved "Mystery Science 3000" show to legendary Eames chairs to an Evil Knievel costume. All of these things were major cultural influences, Cruz said, so he wanted to give the exhibition viewer a sense of how he saw the world and how that influenced his work.
From there, you walk through a variety of displays that show off both how the fonts were created, how they were used and how they evolved. For example, a single font grew from the minds of House Industries to be used for clients as wide ranging as Wendy's Restaurants to Adele to the New Yorker. It is diverse, yet the way the objects and fonts are displayed it all makes sense.
Items from the museum's collection along with other artifacts —including hot rodder Ed "Big Daddy" Roth's futuristic Mysterion show car, revolutionary furniture designs by Charles and Ray Eames, and an original Apple 1 computer— will be paired with House Industries' diverse body of work to demonstrate how different objects and experiences can inspire new ideas and creations.