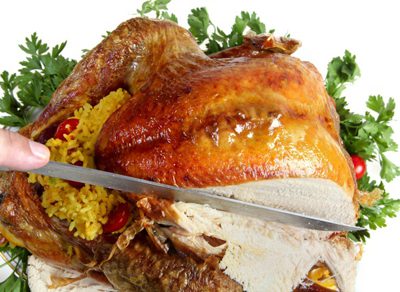 In Michigan there are seasonal hints as to what foods we need to prepare. With the first snowfall and below freezing mornings it's time to start thinking about warm dishes and comfort foods.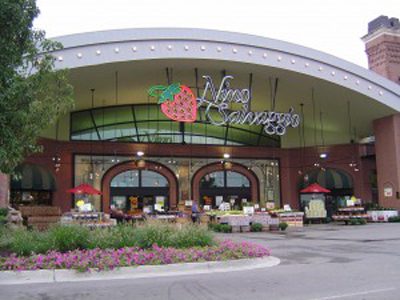 Cooler temperatures also mean that home-based chefs need to start thinking about holiday preparations. And if you're going to have a bunch of people over for Thanksgiving dinner, you may end up having such a crowd that you'll need something to feed them for breakfast and lunch as well.
That is where having some good recipes is essential. Thankfully, the Metro Detroit region in particular has a bunch of these. One favorite is Nino Salvaggio, where fresh food is plentiful, beautiful and (our favorite) prepared in advance.
Chef Pete is the culinary expert there, and here are some suggestions on having the perfect turkey plus a recipe for the next day. This is his original 10-Step Process for getting a tasty, moist turkey:
1.    Follow our advice regarding buying and prepping your bird.
2.    Instead of stuffing your bird with bread stuffing, prepare a mixture of two parts onion, one part carrot and one part celery. Chefs call this mixture a mirepoix. Make enough mirepoix to stuff the inside cavity with a little room to spare. Also, place a sprig of fresh thyme and or sage and a few cracked peppercorns for additional flavor.
3.    Prepare your favorite stuffing recipe and place in an oven safe glass or earthenware container. Consider adding additional chicken stock, milk or other moist ingredients but do not bake it until your turkey is in the oven and about half way baked.
4.    Follow our seasoning recommendations for the turkey.
5.    Roast the turkey at 325 to 350 degrees. Place the turkey on a rack above the pan for the first half to two thirds of its oven time breast up, and most important, for the last one third of the cooking time, upside down.
6.    After turning the bird upside down, extract some of the juices from the roasting pan and baste the stuffing instead of the turkey.
7.    Place the stuffing in the oven and bake it. Consider additional "basting" with melted butter.
8.    Refer to our "Roasting and Knowing When to Stop" guidelines but leave the turkey upside down once you have removed it from the oven. Let it rest 10 to 15 minutes or so.
9.    Remove the vegetable mixture from the inside cavity of the turkey.
10.    Before serving, turn the turkey breast side up. If you are really a purist, consider stuffing your bird with the cooked stuffing before presenting it to the table. One of the sacrifices in this method is the skin. Although the skin should remain intact, it perhaps will not be as crisp as a bird roasted entirely breast up through the entire roasting process. The choice is yours.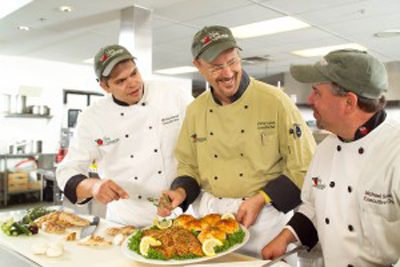 Here is one of Chef Pete's other holiday favorites. It's warm, hearty and full of hammy goodness.
Ham & Mushroom Biscuits with Cheesy Alfredo Sauce
Serves 4
Ingredients:
2 Cups Ham, Cut Julienne
3 Cups Fresh White Mushrooms, Sliced
¼ Cup Green Onions, Chopped
2 TBSP Butter or Oil
8 Salvaggio Buttermilk Biscuits
1 Pt. Nino's Prepared Alfredo Sauce
1 Cup Cheddar Cheese, Shredded
½ Cup Milk
To Taste Salt & Pepper
Method:
1.    In a medium-sized saucepan, gently heat the Alfredo sauce, shredded cheddar cheese and milk. Thin as necessary to achieve a medium-consistency sauce.
2.    In a medium-sized skillet, sauté mushrooms and green onions in butter until softened and golden brown.
3.    Add ham and the cheesy Alfredo sauce to the mushrooms and stir together. Season with salt & pepper to taste
4.    Warm biscuits, and then cut in half, placing two bottom halves of the biscuits per serving and reserving the top halves.
5.    Portion approximately ¼ cup of the ham mixture over each biscuit bottom, replace the top half of the biscuit, and then portion another ¼ cup over the top.
6.    Serve.