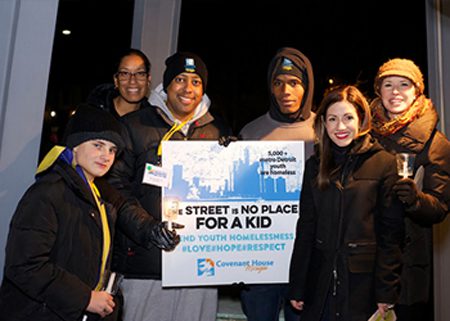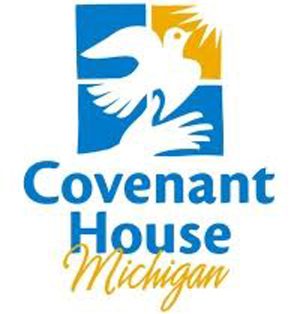 Few people would volunteer willingly to sleep outside in Michigan in November, no matter what the reason might be. That is just one of the reasons the upcoming Sleep Out: Executive Edition is an amazing event.
Hosted by Covenant House Michigan, the event brings Metro Detroit's business leaders together to sleep outside in solidarity, to bring attention to youth homelessness and raise funds for Covenant House's mission.
Now in its third year, the Detroit Sleep Out: Executive Edition is part of a nationwide event taking place Nov. 17 in 16 cities at Covenant House sites across North America. From Anchorage to New York, men and women from the business community will come together to raise awareness and funds to support Covenant House's life-changing work helping young people leave the streets and begin new lives.
Last year, more than 70 participants gave up the comforts of their homes to spend a night "on the street." They set up cardboard boxes as makeshift beds on the basketball court overlooking CHM's Rights of Passage and Caritas buildings where 70 formerly homeless young people were safe and warm inside. Together, these men and women raised over $378,000, to continue the vital work of CHM.
Thom Lipari, president and CEO, of Lipari Foods LLC is participating and has recruited his two sons as well. They collectively have raised more than $30,000 when the average goal is $5,000 per person. Founded in 1963 by Thom's father Jim, Lipari Foods is a regional wholesale food distributor based in Warren servicing 12 states.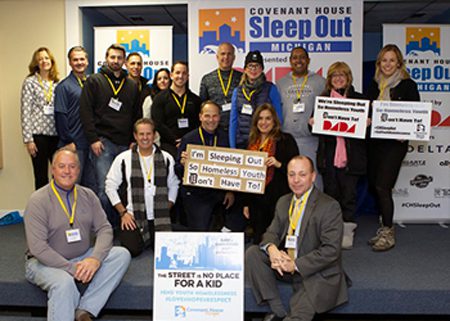 Here is Lipari's take on why he and his family will participate in the 2016 Detroit Sleep Out: Executive Edition.
Q: How did you hear about this event and why are you inspired to participate in it?
A: I heard of the program from Sam Slaughter, Team Leader for the DADA Group. When he asked for support for this charity I passed the information on to my wife who runs our charitable foundation for the family and as she looked into it and shared her findings with me we began to realize that they were doing some really good work for a very good cause. We try to support local charities that are community based such as Gleaners, Forgotten Harvest and Capuchins. The Covenant House fits right into that what the foundation feels is important to support. Once we decided on supporting Covenant House we thought it would be a great event for the entire family to participate in since all the family members financially support the foundation. However once we contacted Covenant House my wife realized it was just for executives so the participation from the family ended up being just the family executives in Lipari Foods which are myself, two of my sons and a son-in-law. Once we decide to participate and starting really looking into what the organization does I realized that there was a much bigger problem with youth homelessness than I was aware of and how challenging being in that situation can be for someone who trying to figure out where there place is in this world. I believe the most inspiring aspect of this program is that it actually touches people and helps them at an early point of their development which is so critical to becoming productive members of our society.
Q: What do you think you have learned/will learn from sleeping out and doing it as a family?
A: I think that both personally and as a family we will have a little bit better understanding of what those less fortunate then us have to deal with on a daily basis. Sometimes our sheltered world keeps us from what other parts of our community are dealing with on a daily basis. And hopefully as a family we realize what we think is normal, like a warm bed every night, is something very special to someone else.
Q: It seems like it will be a very emotional time.
A: I have been overwhelmed by the support I have receive from so many of my friends and business associate in support me on the sleep out. And how so many have made comments on how good they feel this program is once they were made aware of its existence. And finally I just hope that through the little bit that our family is doing this week in support of Covenant House we can give more than just the shelter and food that our donations will provide but that we also give these young kids a little bit of hope so that one day they will be in the position to be the one helping instead of the one that needs help.