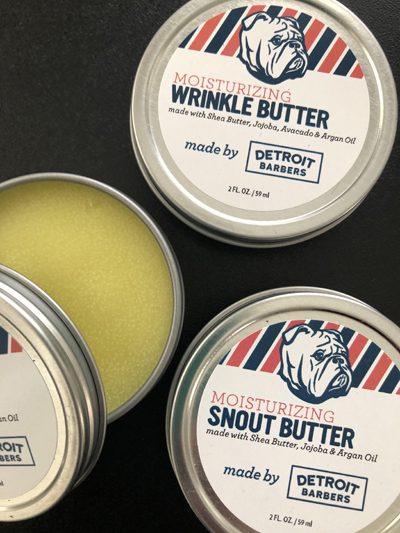 Much like the humans that love them, dogs have hair and skin needs that require special attention from time to time.
That is where Detroit Barbers and its partners come in. Proud pet owners Chad and Jami Buchanan, who founded Detroit Barbers, have two bulldogs who sometimes visit their shops in Metro Detroit. Diesel and Puma are pups that may need moisturizing from time to time, so they decided to make a product just for them and their fellow canine friends.
When their own dogs experienced dry noses in winter or needed a moisturizing shampoo for their fur, the Buchanans put their knowledge of high-quality natural hair and skin products to good use.
"We noticed that beard balm also served as a safe and effective moisturizer for more than just beards," says Chad Buchanan. "It softens cuticles and was safe enough to apply on our dogs' noses to protect from the drying, cold winter air."
While making products like beard balm and beard shampoo, there happened to be some base product left over. After some serious research and development, Buchanan crafted safe conditioning shampoos and moisturizing butters meant for pups – not people.
Now, Detroit Barbers offers an exclusive line of all-natural pet products sold only through Premier Pet Supply locations in Beverly Hills, Rochester Hills, Livonia and Novi. Premier Pet Supply is a local, family-owned business that believes supporting the finest local and national products. The company has been doing so for more than 25 years.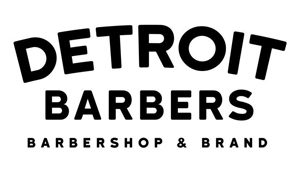 Mike Palmer, owner of Premier Pet Supply, has known the Buchanans and their pets for years. He was eager to work with Detroit Barbers – and was the first to suggest they market the pet products under the barber shops' brand name.
"We're truly excited about this partnership with Detroit Barbers," Palmer says. "Like Premier Pet Supply, they're a local company, and they recognize the importance of high-quality ingredients. Now they're giving back to local rescues. We're really proud to align ourselves with them."
All products sold will benefit the mission of Detroit Dog Rescue. Detroit Barbers will donate 25 percent of the sale of its pet line of products to Detroit Dog Rescue and provide free product to the dogs in their care.
Working with Premier Pet Supply, Detroit Barbers owners have developed three kinds of conditioning shampoos and three moisturizing puppy butters to soothe pet paws and skin. As with all Detroit Barbers-made products, these are sulfate and paraben free. Pet products made by Detroit Barbers now include Pet-Friendly Conditioning Shampoos such as Deep Clean Deodorizing Shampoo + Conditioner made with Mint oil and Pet-Friendly Moisturizers such as Paw Butter made with rosehip and Argan oils.