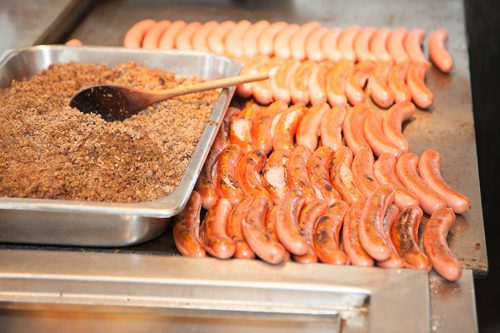 Sometimes, you have to take a side. You've got to make a stand. And, in that tradition, we will admit: We are unabashed fans of American Coney Island in Detroit.
There's something about its outrageously All-American decorations of red, white and blue. There's its cool corner location. We adore its nearly 100-year tradition in Detroit. Nowhere else will you find the mix of noise, fast-paced plating and color like you will at American. Shouting out orders, serving up fries and taking care of every order is clockwork here.
Most importantly, we stand in awe of its fierce yet friendly public face, Grace Keros. She walks fast and talks faster. Make a mistake, and she'll let you know it. Yet she's as gracious, friendly and kind as she is feisty.
"We're tastefully tacky," Keros said. "We're red, white and blue. We're a piece of American pie."
We can tell you that American Coney Island was founded in 1917 by Constantine "Gust" Keros, who immigrated to Detroit from Greece in 1903. The next owner was one of Gust's five sons, Charles "Chuck" J. Keros.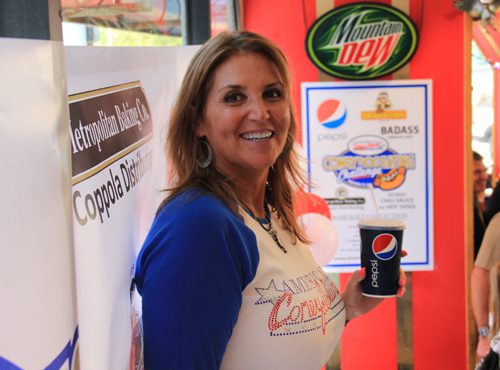 Almost 20 years ago, the first and only woman (Keros) followed in her dad's footsteps and has been managing the day-to-day business operations. Grace Keros has been responsible for keeping American Coney Island one of Detroit's favorite traditions.
So we asked Keros for a tour of her family business and to outline what makes her Coneys rated the best in Detroit by everyone from the Food Network to Jimmy Fallon (who recently visited before taking over as head of "The Tonight Show" on NBC).
Here are the Top Five reasons American Coney Island stands out for its many patrons who walk through its glass doors.
1. The hot dog. "It snaps. It pops when you bite into it," explains Keros. That's because it's an exclusive recipe that is 90 percent beef, 10 percent pork and covered with a natural lamb-skin casing. "Never, never boil it. That makes it mushy. It ruins the natural casing," Keros added. That casing is what reminds you that this is a special dog. But, to our knowledge, it's never bitten anyone back.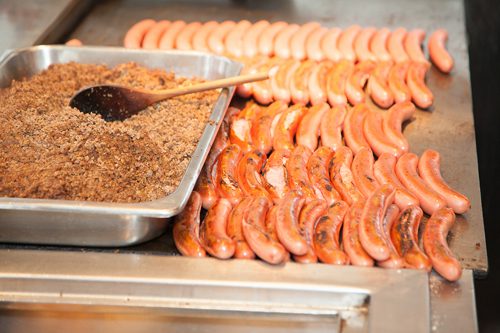 2. The chili. We'd like to share the recipe, but Keros would have to kill us or marry us. That's because it is a family tradition that only they know. It is made in-house and it is sacred. "No one else has it. No one else can use it," Keros said. "It's a secret so I can't tell you."
3. The onions. These little white squares are more than decoration; they are "very, very, very, very important," Keros admonishes. They are a white, sweet Vandalia. They're only available certain times of the year, so Keros cherishes them. "One little change in the onion, and it ruins everything," she notes.
4. The mustard. It has to be Belgian style. It has to be yellow. And you've got to know when to squirt and when to stop. "A little bit makes it tangy. Too much and it can overpower it," Keros explained.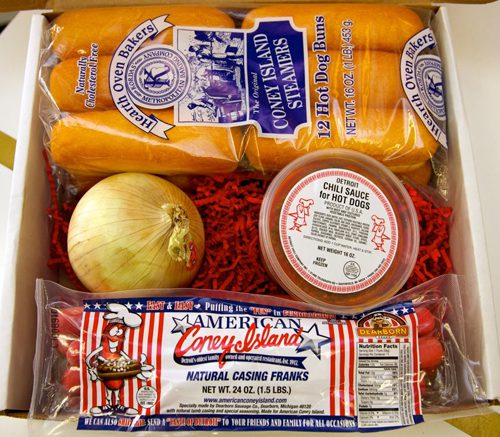 5. The bun. These little pieces of perfection are made locally and never come from a grocery store. Those buns are too bready, Keros charges. These are light, perfectly warmed and cradle the hot dog like a baby. "Ours can take the heat," she said.
Besides its Detroit cornerstone, American Coney Island can be found at Ford Field, the Detroit Zoo and the D Hotel in Las Vegas. You also can order "Coney Kits" online to share with family and friends.