Sometimes, a door is more than a door. That is especially true at Global Telecom Solutions in Detroit. The Corktown-based company took a simple, functional item and turned it into something special.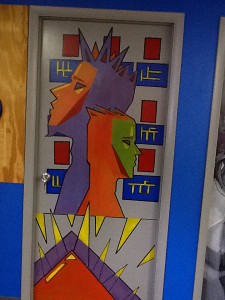 They turned a door into art. And that helps tell every visitor who walks through said door something about GTS and its story. Rather than have the same office environment as its competitors, GTS looked around at its creative neighbors and decided to celebrate what makes Detroit stand out. As a result, its workplace has a standout view all its own.
"We are very proud of our office art," says Mark Stackpoole, CEO of the professional consulting firm that specializes in cost reduction for business telecommunication expenditures.
GTS Direct is wasting no time getting settled into their new neighborhood.  Already involved in numerous area charitable organizations such as Volunteers of America, Youthville, City Year, Alternatives for Girls, Racquet Up Detroit, Friends of Belle Isle, Legal Aid and Defenders, Sacred Heart Rehabilitation Centers, Camp Casey, Clark Park Coalition and Gleaners Food Bank, the company hosted a unique graffiti competition.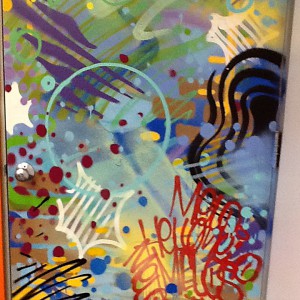 Derek Weaver, principal of the 4731 Group, was contracted to renovate the new home of GTS, which had not seen renovations in more than 30 years. Weaver's firm, which also runs the nonprofit project, Grand River Creative Corridor, organized a dozen artists to give the building a vibrant, artistic makeover. More than two dozen murals found throughout the office space were created by local artists including: Sintex, FEL3000ft, TEAD and fine artists Sydney James and Christopher Batten.
In other words, these artists took a blank canvas and created a place that reflects GTS and its company values, Stackpoole says. It shows that GTS is engaging, energetic and wants to be a dynamic part of its community, he adds.
It can be challenging to take those white walls and paint them bright neon green. It can feel foreign to spray paint over a perfectly acceptable elevator door. But adding artwork – whether it is painting or the office walls themselves – is what makes your company stand out from the crowd.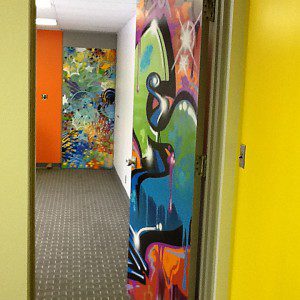 That's something I truly learned by visiting many Michigan offices over my nearly two decades as a reporter, much of which has been spent on the business desk. I've seen it all, whether it is standard cubicles to free-form workspaces where pillows serve as chairs on the floor.
Art, whether it is a forma painting, a singular sculpture, some graffiti or a dripping chocolate ceiling (yes, there is a place like that in Metro Detroit), is what defines you as an organization. Look around your walls – what does the artwork there say about your co-workers and your culture? If you have plain, white walls, that's fine. But your clients, vendors and visitors may have a better idea of what you're all about if you put up some paint and hang a picture or two.
My favorite office right now has to be D:Pop in Detroit. This place is spectacular. Art is everywhere, and that truly reflects the philosophy of the company, its employees, its brand and its image in the larger community. Not only are the art objects themselves fun (after all, who wouldn't want to work with a real spaceman suit in the room?), but they also serve a purpose. They generate conversation and camaraderie among the creative people who work there. The D:Pop designers really seem like they enjoy going to work, and that probably makes it much easier for them to create interesting work spaces for their clients across the nation.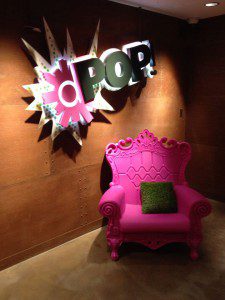 One of its art pieces is made from random computer pieces. For this design firm, finding a way to make computers fit or even look beautiful must be a challenge. It reminds me of the home-decorating shows I watch where the interior designer struggles to include a television set or ceiling fan in their design. It has to be there for the room to function properly. But to turn an everyday item like a computer into art? That takes some serious genius. It is a piece that I remember every time I visit. And it makes me like the company just a little bit more because of its quirky nature.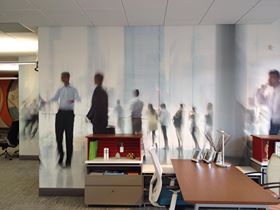 Another great office in Oakland County gave me a lot of food for thoughts on office art. ISCG in Royal Oak helped me see that art can have a huge function in how an office works. The firm's CEO Mary Ann Lievois and her staff are experts on everything has to do with helping people work better and smarter. It is a commercial interiors firm specializing in furnishings, workplace interior design, furniture installation and facilities planning services.
One idea that stuck with me was the mural that sought to create motion in a room. Besides having beautiful windows in its facility, ISCG wanted people to feel energized in other ways. Having this massive mural brought a kind of kinetic mojo to the room, helping it feel larger and fuller. Having a significant piece of artwork like this gave the room some spark. I'd rather see these people walking by that stare at a white wall all day, that's for sure. Plus, the ISCG offices also have great bright colors everywhere, so painting anything white just wasn't an option.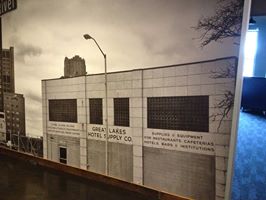 If you want an example of how art can tell people more about you, you also could check out the Great Lakes Culinary Center in Southfield. Everything about this space, which is used to not only sell kitchen equipment but as a way to connect the community with cooking, is elegant and interesting. There is a huge commercial kitchen there where you can hold "Iron Chef" battles or just see whether the stove you've been eyeing is right for you. Such a space could seem cold, but with the artwork there, you only feel welcomed and happy, much like hanging out in someone's home.
The artwork is very inspiring, especially when it talks about food. But my favorite piece at the Culinary Center is a huge picture of its previous building. Owner Marc Israel is a third generation family business owner of the successful Great Lakes Hotel Supply Company. To honor his past, there is a wonderful black-and-white photographic reproduction of the place where it all started. To go from that simple façade to this high-end facility which opened in November 2013 was the fulfillment of Israel's dream. And his hard work shows.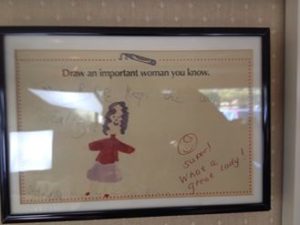 I'll leave you with one more piece. This one came from the offices of Weight Watchers International's favorite daughter, Florine Mark. She has built a massive empire on helping people manage their weight, and her Farmington Hills office is full of beautiful artwork. You can tell that her favorite color is red, that she loves to have pictures of her friends and family around her and that she cares deeply about her environment. Having a healthy mind is part of having a healthy body, so putting lovely objects around her is a top priority.
My favorite has to be the picture her granddaughter created of Mark – her personal inspiration. Yes, Mark had lots of other objects on her walls, including many honors from political heavyweights. But this personal touch really showed off how much family means to her. And it was exciting to learn a little more about her from seeing her artwork and her granddaughter's love right there in front of me.