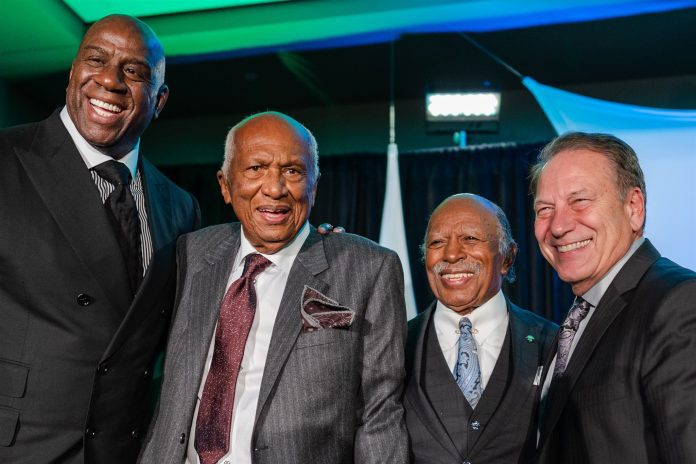 Many traveled to the Spartan Stadium on Oct. 22nd to honor MSU Board of Trustees Chair Emeritus Joel Ferguson and his 30+ years of serving the Lansing community and beyond. It was a star-studded evening with an impressive guest list, from the Legendary Little Rock Nine Ernie Green to Court TV's Judge Mathis. Coach Tom Izzo was the emcee and introduced several prestigious speakers.
Even Rev. Jesse Jackson's wife, Jacqueline attended along with their son, Jonathan, who brought greetings on behalf of his father. During a moment of reflection, Jonathan recalled Joel's words to his father during the 1988 Presidential campaign, "if we invest more in the front side of life, we don't have to invest so much in the backside of life".
Magic Johnson shared a heartfelt message of Joel's lifelong mentorship to him, "You taught me, always go to win whether I'm on the court or off the court. You showed me that black men could own businesses. I saw someone who looked like me doing great things in the city and I wanted to be just like you. You changed so many lives and helped so many people."
Nick Saban, Gregory Kelser, Governor Gretchen Whitmer, Rev. Al Sharpton and President Bill Clinton sent video messages that spoke to Joel's character and his impact on them. One highlight of the evening was when Andy Schor presented a proclamation making Oct. 22, 2021 in the city of Lansing, Joel Ferguson Day.
Joel is an icon of opportunity and a legendary connector. These traits drive his values, as President Bill Clinton reinforced: "You care about the right things. You put your time, your money, and your heart in the right places that will create better tomorrows for young people."
Throughout his life, Joel has mentored many of Lansing's young people, athletes and non-athletes alike, about the importance of education and civic duty in one's personal and professional lives. This work continues today. "Joel is the most relentless person I know and he's not done yet," said MSU H