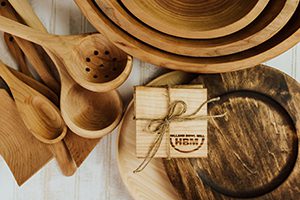 HOLLAND — The Holland Bowl Mill, 120 James Street in Holland MI, continues the family tradition of creating heirloom hand-made wooden bowls, cutting boards, utensils, and home décor items. Since 1926 the company has produced beautiful items that are passed down from generation to generation.
Fourth-generation owner, Kory Gier, increased the company's line from just bowls made from Michigan-harvested exotic woods to all sorts of items that make perfect gifts for any occasion. Recently the company completed an extensive remodeling project, which doubled the showroom space and allows for more products to be displayed. Tours to see how these beautiful items are made are available at any time without an appointment during normal business hours. Meanwhile, people can watch a Discovery Channel broadcast of bowel making process at this link: https://hollandbowlmill.com/how-holland-bowl-mill-bowls-are-made/
"We've come a long way from making wooden shoes in 1926 to now," says Gier. "With the tourist season now here, we're extremely busy. We're able to produce between from 800 – 1,000 bowls per week. We get orders from all over the United States and other places in the world. We also offer free engraving, which makes our items special for weddings, showers, anniversaries, and other life events."
For more information about Holland Bowl Mill and interviews with Kory Gier, please call 616/403-4614 or visit www.hollandbowlmill.com.