Higher Hopes!, a registered 501 (C) 3 charity, is once again helping to feed the community's most vulnerable children and their families.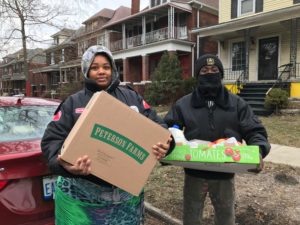 Higher Hopes! will distribute 1,000 complete Thanksgiving meal kits to those in need. In addition and despite COVID-19, Higher Hopes! is still able to provide nourishing 35- to 45 -pound meal kits each month to at least 1,000 families with children enrolled in Early Head Start Childcare Partnership Programs throughout South East Michigan.
Through 2019, more than 1 million pounds of food has been distributed in five years. With its expansive growth, Higher Hopes! will distribute more than 1.5 pounds of food before the end of 2020.
"This has definitely been an interesting year, quite different than what we've ever experienced," said Bill Birndorf, founder of Higher Hopes! "With COVID-19 and everything else that's going on, what we do at Higher Hopes! is more important than in years past."
Birndorf pointed out there are more than 1.4 million people in Michigan who struggle with hunger and food insecurities, nearly 357,000 of which are children.
"That number is rising," Birndorf said. "With many schools on virtual instruction, children that rely on getting two of their three meals at school are at and continue to be at risk. Families don't have the financial means to feed them at home and an increasing number of families are struggling harder to make ends meet. Parents/husband/wives have gone without meals to ensure that their kids are fed. Higher Hopes! has been working overtime to do what we can to help support our Head Start families throughout this nationwide pandemic."
Higher Hopes! works with Gleaners Food Bank of Southeast Michigan and has become one of their largest agency partners. Each Thanksgiving kit contains a 12- to 14-pound turkey, stuffing, Michigan potatoes, yams, all of the ingredients for green bean casserole, chicken broth, Jiffy Corn Muffin Mix, cranberry sauce, apples, spices, and Coca Cola products, all topped off with Cooper Street Cookies for dessert and much more.
For the balance of the year, at least 1,000 Head Start families will receive supplemental food packages on a monthly basis."
Tonia Franks, director at The Order of the Fishermen Ministry Head Start Program, said the program continues to "touch the lives of many families with children living in Detroit over the past seven years.
"If children arrive at school hungry, they often fail to thrive in the physical, social, and emotional development, which is a deterrent to our mission," Franks said. "Higher Hopes! monthly nutritious food kits are provided to 10 Head Start facilities across the City of Detroit. Each kit includes fresh, frozen and canned vegetables and fruits, grains, peanut butter, fruit juice along with everyday staples, plus meat proteins, legumes, eggs, and even gallons of milk. The look of joy on the parent's faces is its own reward."
"According to the Annie E. Casey Foundation, 50% of African American children in Michigan live in concentrated poverty – the highest rate in the United States," Birndorf said. "And 1.4 million people in Michigan suffer with food insecurity, 400,000 of which are children. Through generous donations and by utilizing Gleaners' Mobile Pantry platform Higher Hopes! is able to distribute healthy foods every single month at 10 head Start locations!"
Corporate and individual contributions are always welcome and can be made at www.higherhopesdetroit.org or at the Facebook page at www.facebook.com/pages/Higher-Hopes/351220508366604. For more information about Higher Hopes! and interviews with Bill Birndorf, call 248/360-9300, email [email protected], or visit www.higherhopesdetroit.org.