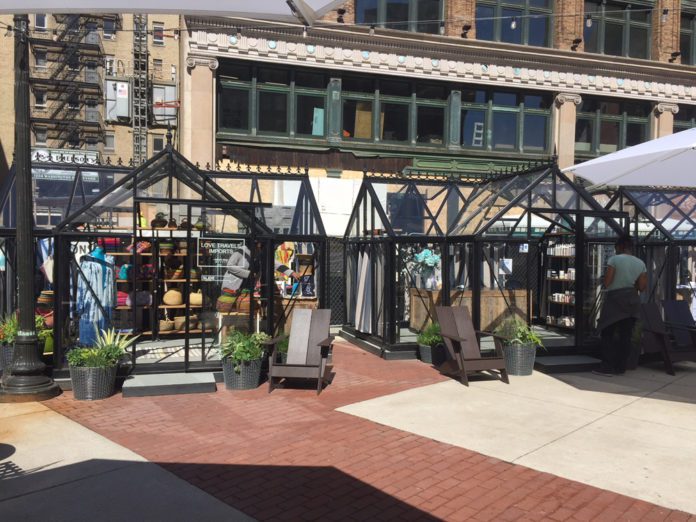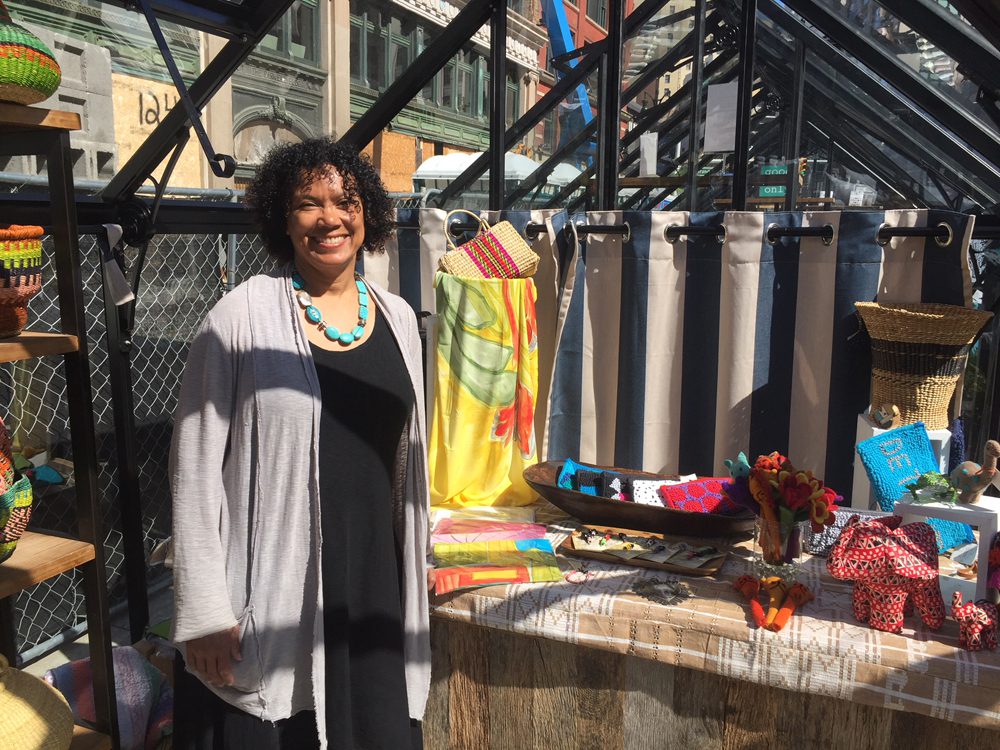 With its mix of businesses, beautiful glass storefronts and an amazing backdrop of the ever-changing city, the Downtown Detroit Markets are back for another year in Detroit's city center.
This spring and summer, Bedrock and the Quicken Loans Community Investment Fund are welcoming two phases of market vendors with support from the Downtown Detroit Partnership. The second phase of vendors will be announced mid-summer.
Out of the 30 vendors that opened up shop on Thursday, May 24, all are Metro Detroit based and more than 50 percent are minority-owned businesses. The majority are women-owned companies. There are 10 apparel vendors, nine accessories vendors and six food and beverage vendors.
Yvette Jenkins, founder of Love Travels Imports, has her handmade items from Haiti, South Africa and other countries in Capitol Park. She is excited to share her well-made goods, which feature artisans from a variety of backgrounds including fabric and accessories.
Jenkins says she has built relationships with the artisans, including coming up with custom pieces and specialty items. What she looks for in the market is something unique that people can share with customers, clients or employees.
Vendors include:
• Ink Detroit: Ink Detroit strives to uplift Motown to its once great status as the Paris of the Midwest by creating apparel that signifies Detroit Pride and Love.
• Ashley Gold: Handmade, fashionable jewelry that will take you from day to night.
• York: Streetwear proudly designed, printed and made in Detroit that inspires positive change in the community.
• Flamingo Vintage: Flamingo Vintage specializes in men's and women's clothing and accessories dating back to the 1920's-1970's.
• Albert's General Store: Curated Michigan home décor, gifts & clothing including pillows, rocks glasses, bottle openers, coffee mugs, greeting cards, stickers, candles, etc.
• Motor City Popcorn: Gourmet popcorn in a variety of fun and delicious flavors, many which include Detroit themes that will resonate with customers, such as the 8 Mile Mix, the Belle Isle Blend, and the Motor City Mix.
• Well Done Goods: A quirky cure-all for your fashion and gifting emergencies.
• Merit: Functional, beautifully designed clothing and accessories that help fund college scholarships for youth in need.
• le detroit macaron: A delicious taste of France amidst a very old French city – Detroit.
• dale&blue: 100 percent linen dyed by hand goods with Indigo Small batch production.
• SAHI Cosmetics: Luxury makeup for ethnic skin tones. With the perfect SAHI shade, you can #OwnYourColor.
• Paisley Paper Co.: Cards and paper goods that bring joy to life's celebrations.
• Pewabic Pottery: Handcrafting ceramic art in Detroit since 1903, Pewabic offers a wide variety of beautiful, richly glazed pottery and art tiles that are perfect for home or gift giving, and make ideal souvenirs of the city they've called home for 115 years.
• Touch: Featuring some of the best natural skincare and haircare products available, items that are good for your body and environment, made with all-natural, sustainable ingredients.
• Cool Jacks Ice Cream: Delicious ice cream sandwiches featuring fresh baked cookies.
• Fly Behavior: A stylist-curated collection geared toward the not-so-common, everyday influential gal. A gal who is a true-to-herself influencer, strong and takes chances in both life and style.
• Detroit GT: Design and apparel brand that specializes in creating original, clever products that promote Detroit.
• Ferne Boutique: Ferne Boutique is a women's clothing boutique offering unique items for women of all ages.
• David Vintage: A Haute Couture Streetwear lifestyle brand that is sourced and based in Detroit. They specialize in men's and women's streetwear, outerwear, and one-of-a-kind accessories.
• MATURE: Mature is a collection of men's products that are modern yet timeless and represent excellent quality and exceptional fit that are hand-selected from brands that embrace individuality, authenticity and timeless attire.
• Mira Estell: Handbags and accessories that capture something uniquely exquisite in each piece. Mira Estell accentuates the sense of style in every woman!
• Purpose Planner: Stylish stationery that helps you master the art of planning with a purpose.
• Elaine B: Beautiful handmade geometric jewelry made from recycled silver and responsibly-sourced stones.
• Goldeluxe: Creating jewelry in brass, sterling silver, 14k gold and 14k gold fill, Libby Hopper-Trajkovski uses traditional lost wax casting and metalsmithing techniques to create handmade pieces intended for versatility and everyday wear.
• Pingree Detroit: Bringing veterans and civilians together to maximize community wellbeing by creating an environment of resilience through localized, sustainable, community-supported production. Their line currently includes leather and hemp totes.
• Front & Scenter: Front & Scenter works within the Greater Detroit area to turn houses into homes by leaving lasting sensory impressions that stand out and are outstanding.
• 12th & VIV: Handmade candles, creams and scrubs hand-selected for their evocative nature.
• Susan's Tarts: Friend & family owned pastry shop, operating out of Eastern Market's Shed 5, specializing in elegant, single-portioned tarts.
• Detroit Marshmallow Co.: Detroit brand featuring marshmallow goods with natural ingredients sourced from local food artisans, classic brands and growers.
• Detroit Dough: Inspired by history, travels, and life experiences, Detroit Dough is bringing safe-to-eat cookie dough, fun and pride to the Midwest.