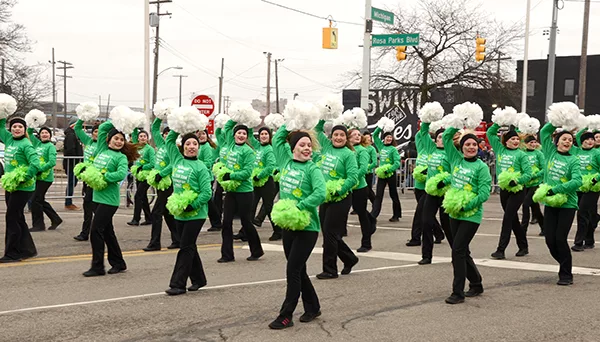 DETROIT — Irish pride returns to Corktown on Sunday, March 12, when the United Irish Societies (UIS) hosts the 65th Annual 2023 Detroit St. Patrick's Parade. The parade begins at 1 p.m. near Sixth Street and Michigan Avenue and continues west to 14th Street in Corktown. The parade's presenting sponsor is Kitch Attorneys & Counselors and the emcee is Paul W. Smith from WJR AM-760.
The parade, which includes marching and pipe and drum bands, color guard units, floats, clowns, novelty groups, and marching units, moves west on Michigan Avenue, passes the grandstands, disperses at 14th Street, and lasts about two hours. The event typically attracts 80,000-100,000 people, making it one of the largest St. Patrick's parades in the country.

"On behalf of the United Irish Societies, parade sponsors and participants, we're thrilled this year's event will be better than ever with all of the positive momentum in Corktown for everyone who lives, works and visits the area," said Mike Kelly, UIS president.
This year's Grand Marshal is Kevin Murphy of Livonia. Murphy's childhood household was filled with the music of Ireland and he traveled to Ireland for the first time when he was 13. After working for Ford Motor Company, he opened Murphy's Restaurant in Redford, the first of four restaurants he and his wife Shelly owned and operated. He's deeply involved in the UIS and several Irish fraternal organizations, Irish music, his church and the Motor City Irish Fest.
"I'm honored to share my love of Irish culture, music and heritage with metro Detroiters as Grand Marshal for this year's Detroit St. Patrick's Parade," Murphy said. "This parade is a perfect time to celebrate Corktown, Detroit, and the exciting history and new energy in the Corktown area."
The parade also offers a Family Fun Zone, sponsored by Jameson Irish Whiskey, a reserved, family-friendly area located at the northeast corner of Michigan Avenue and Sixth Street. The Family Fun Zone, which runs from 12:30-3:30 p.m. on parade day, includes live Irish entertainment, coffee, donuts and water and private restrooms and free parking with event ticket. Family Fun Zone tickets are $12/person or $60/six tickets. Details are on the website: https://www.detroitstpatricksparade.com/family-fun-zone/.
• Painting of the Shamrocks, Friday, March 10 at noon at the United Irish Societies Irish Plaza on Sixth Street and Michigan Avenue. The parade queen and her court, parade officials, UIS President Mike Kelly and Grand Marshal Kevin Murphy will be there along with Irish pipe and drum musicians.
• A Friendship Agreement was signed with Cork County Council Ireland in 2019 with Mayor Duggan to promote business and tourism between Cork County Ireland and Detroit and the Detroit St. Patrick's Parade. Deputy Mayor Deirdre O'Brien, Former Mayor/Councilor Mary Linehan Foley, Councilor Kay Dawson and Mags Donovan, Senior Staff Officer of Cork County Council will be in metro Detroit and Corktown for the parade March 10-13.
• Hometown Heroes will be honored at the parade for their community service including:
– Father Tim McCabe, SJ, Executive Director, Pope Francis Center, Detroit
– Corporal Nickolas Zubok, Dearborn Police Department
– Executive Director Satrices Coleman-Betts, St. Patrick's Senior Center
For more information about the event, visit http://www.detroitstpatricksparade.com or visit the parade's Facebook Page at Detroit St. Patrick's Parade.