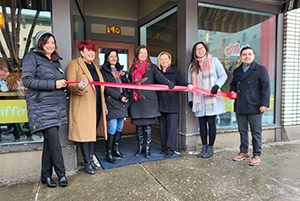 GRAND RAPIDS — An idea borne out of a downtown Grand Rapids organization serving those experiencing homelessness has come to fruition today when Dégagé Ministries opened the doors to Thrift on Div. Thrift on Div is a thrift and artisan market that will serve the community with dignity and respect, aligning beautifully with the mission at Dégagé Ministries. The store, located at 140 Division Ave South, also provides employment to participants of Dégagé's Workforce Development Program.
Thrift on Div celebrated its grand opening at a special ribbon-cutting ceremony with Grand Rapids Mayor Rosalynn Bliss Monday. Also in attendance were representatives from the Chamber of Commerce and members of the Dégagé and Heartside communities.
The store will be open Tuesday – Friday from 10 a.m. to 1 p.m., as well as Thursday evenings 4–6 p.m., with the anticipation of additional hours in the spring.
"We are thrilled to share this beautiful store with the community. Each detail in this store has been carefully tended to by people who know what it is like not to have a place to call home. It is a place where all, regardless of socioeconomic status, are welcome to participate in this unique shopping experience together, and where each sale restores hope to those experiencing homelessness and poverty in Grand Rapids," said Thelma Ensink, Executive Director for Dégagé Ministries.
The interior design of Thrift on Div is the vision of Workforce Development Coordinator, Stacy Postma, who has extensive retail and education experience.
"We wanted to create a space where members of the community would feel special, important and loved. The inspiration centered around décor that embraces the old through repurposed pieces such as a vintage cash register, antique radio and repurposed theatre seats," said Postma.
She and a team of over a dozen people served in Dégagé's programs partnered together to create a space they are proud to have had a hand in establishing. Boutique owners from JB and Me, and Lee and Birch graciously donated fixtures, mannequins and displays, while personal stylist Cari Wolters offered jewelry and women's attire perfect for job interviews.
"This store, I believe, is the best in town because it is helping the community. It has really nice clothes. The staff working there are nice people," says Miquel, a patron of Thrift on Div and Dégagé Ministries.
"Thrift on Div was a chance for me to marry my passions of coaching and developing others and providing extraordinary care for people," said Postma.
The store offers new and gently used men's and women's clothing, featured artisans, and renowned Paul's Moms' Cookies, made by women from Dégagé's Open Door Women's Center.
"We accept not only cash, debit and credit cards, but are proud to accept vouchers that can be earned by the men and women served by Dégagé for performing tasks around our ministry," Postma said.
"I was able to purchase a coat, hiking boots, a shirt, and new socks and underwear for someone going through a tough time with vouchers that I earned doing chores at Dégagé Ministries. This is an amazing store for the homeless and those who are not homeless," said Emily, a patron of Thrift on Div and Dégagé Ministries.
Proceeds from Thrift on Div will benefit programs at Dégagé Ministries. If you would like to donate new or gently used items, please visit www.degageministries.org.