EAST LANSING, Mich. — The construction site for MSU Federal Credit Union's (MSUFCU) new seven-story office building in downtown East Lansing is getting a pop of color this week with the installation of new, vibrant fence panels featuring the artwork of local K-12 students.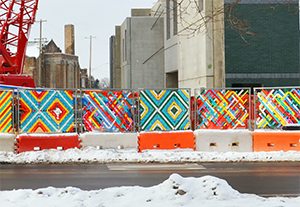 This exciting community art project was made possible by a partnership between MSUFCU, the East Lansing Downtown Development Authority (DDA), the City of East Lansing, Granger and local art teachers.
The fence panels feature colorful, artistic weavings by high school students from East Lansing High School and K-6 students from Stepping Stones Montessori, with a total of 38 panels set to be installed around the construction site. MSUFCU and Granger facilitated the fence panel deliveries and installation, while the DDA assisted with the project by providing funding for the fence weaving art supplies.
"We are excited to celebrate local students and showcase their talents by bringing art to our community," said April Clobes, President/CEO of MSU Federal Credit Union. "The artwork will create community connections much like the Credit Union does through its support of various programs."
"The DDA was excited to support this community-driven project, which will showcase the creativity of local students, while also beautifying an area in downtown East Lansing that is currently under construction," said East Lansing DDA Chair Mike Krueger. "This type of unexpected, community art certainly adds to the vibrancy in our downtown."
The new fence panels will remain up throughout the duration of construction, with the project slated for completion in spring 2023. Community members can visit eastlansingbuzz.org for the latest updates on the project and to sign up for construction alerts.
Founded in 1937, MSUFCU has a national reputation for excellence and has received several top industry and workplace awards, including being named a Best Credit Union to Work For® by American Banker for the fifth year, a Top Workplace by the Detroit Free Press for 11 consecutive years, a National Best and Brightest Companies to Work For® winner for six consecutive years, and was named one of the top five Michigan credit unions in Forbes' Best-in-State Credit Unions 2021 list. MSUFCU was named a Best Workplace in Financial Services and Insurance by Fortune Magazine two consecutive years and has been certified as a Great Place to Work® for nine consecutive years. MSUFCU has been recognized by the Credit Union National Association, earning first place for the people-helping-people philosophy Louise Herring Award. MSUFCU is headquartered in East Lansing, Mich., has 22 branches, over 320,000 members, more than $6.6 billion in assets, and nearly 1,000 employees. For more information, visit msufcu.org.