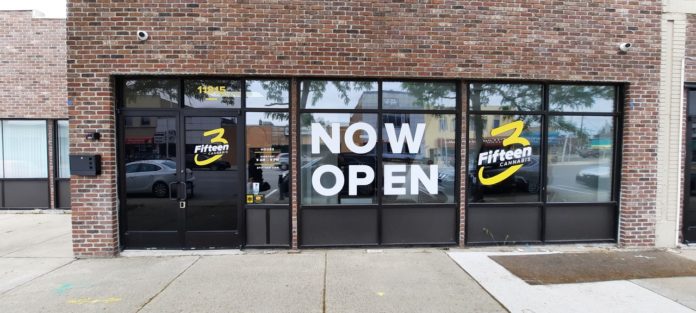 DETROIT – The City of Detroit continues to be a focus for Detroit-based 3Fifteen Cannabis with the announcement of a new rec-focused store in Hamtramck, just two months after debuting its recreational cannabis delivery service in Metro Detroit. The new location, 11815 Joseph Campau Street, opened May 27.
The new location operates seven days a week from 9 a.m. – 9 p.m., and includes 3Fifteen's Metro Detroit Rec Delivery hub, with delivery available between 9 a.m. – 8 p.m. Now, Detroiters will have the option to shop for adult-use cannabis in person, pick up curbside or take advantage of their convenient rec delivery service. Customers can order online at 3Fifteen.com or by calling (833) 315-3155.
To celebrate the grand opening, the store will offer several specials on fresh flower, edibles, concentrates and vape carts. Headliner deals include $100 ounces of LivWell Skunk Hero and Lilac Diesel and $200 ounces of Pleasantrees Race Fuel. The store will offer a wide selection of fresh flower, pre-rolls, edibles, vape cartridges, concentrates and more. 3Fifteen also welcomes seniors 65+ and veterans with a 5% stackable discount every day of the week.
"We are excited to expand 3Fifteen's recreational cannabis offerings to the people of Detroit with the opening of our Hamtramck store," said 3Fifteen's president Tommy Nafso. "We believe this location, which is only six miles from downtown Detroit, will be a welcomed addition to the emerging cannabis scene in Detroit."
Joining Nafso in operating 3Fifteen's locations across Michigan is Ammar Kattoula, who serves as operations director for all 12 Michigan locations. Kattoula brings a lifetime of successful retail operations and financial oversight to the growing cannabis industry. He effectively led the transition of eight independent stores into the single 3Fifteen Cannabis brand, now a flourishing medical and recreational retail brand. Kattoula also oversees strategic development and plans to open more retail locations and cultivation operations.
"We love our Detroit area customers and have enjoyed great success with our Metro Detroit rec delivery program. We are excited to invite customers into our new retail location," Kattoula said. "3Fifteen is eager to continue our involvement in the city and the many organizations that make it home to us, it's a wonderful place to live, work and play."
Becoming an ally in the community is an important part of 3Fifteen's operations, as is consumer education. Each 3Fifteen Cannabis location is staffed by a team of budtenders and store managers ready to help educate customers on available products that meet their unique tastes and needs. The commitment to hire is very important to 3Fifteen, as noted by this detailed equitable hiring practice section found on its website (https://3fifteen.com/careers/).
"As part of our commitment to our local communities, we're working with our social-equity partner, Forty20 Cannabis, to ensure that we follow the most up-to-date, socially responsible practices in the cannabis industry," Kattoula added. "With this partnership, we're proudly able to promote a workplace culture centered around diversity, equity and inclusion. If this work culture is something you're looking for, and you're interested in pursuing a career in the cannabis industry, apply for one of our open positions today."
Aside from the new Hamtramck location, 3Fifteen operates stores in Grand Rapids, Ann Arbor, Battle Creek, Flint, and Morenci near the Ohio border in Lenawee County. 3Fifteen plans to open a recreation location in Hillsdale County this summer as well, to better serve residents of southern Michigan and northern Indiana. 3Fifteen continues to adhere to strict safety guidelines in place including limiting patrons in its stores, requiring proper face coverings, and ensuring social distancing is followed.