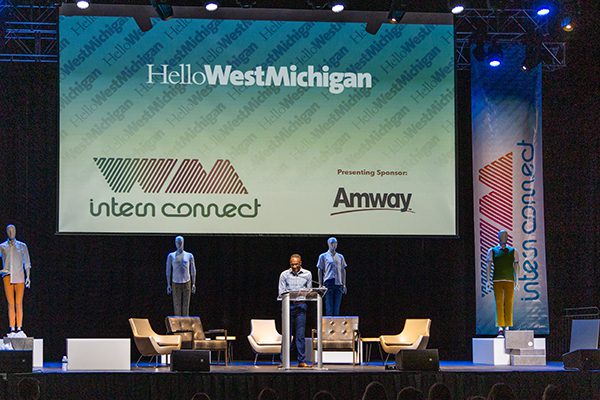 GRAND RAPIDS, Mich. — On Nov. 23, Hello West Michigan and The Right Place will host a virtual and in-person networking event to attract talent to West Michigan. The 11th annual event series will be hosted by the organization, regional partners, and local businesses to attract former West Michigan residents back to the region and convince them that it is time to "rethink" West Michigan.
The event series is designed around Thanksgiving holiday visits to give former residents the opportunity to connect with employers while they're home for Thanksgiving. Since there are some who won't be traveling home for the holiday, Hello West Michigan is offering virtual and in person events this year.
During the event, job seekers can chat virtually 1-on-1 with recruiters from local employers with open positions. Community ambassadors will also be attending to share their West Michigan experience and share their networks with attendees.
The event will provide a casual, professional environment to network and discover career opportunities with growing organizations in the region.
"ReThink West Michigan has become a Thanksgiving season tradition and we're excited to be back in person at a new venue," said Rachel Gray, Executive Director of Hello West Michigan. "With both virtual and in person events this year, there is ample opportunity for everyone in the community to invite an out-of-towner to the event, even if they're not traveling home for the holiday. "
Corewell Health is the Regional Champion Sponsor for the event. West Michigan Works! is a Regional Supporting Sponsor. The Michigan Economic Development Corporation is a Back to Michigan Statewide Supporting Sponsor. Other participating companies include: PADNOS, Haworth, Specialized Recruiting Group, Attwood Corporation, Rockford Construction, Grand Valley State University, Gordon Food Service, Mercy Health, Meijer and others.
"As the largest employer in the state, Corewell Health, formerly Spectrum Health, is committed to hiring and investing in some of the brightest and most talented people in the world," said Nicole McConnell, Senior Vice President, Human Resources Business Partners at Corewell Health West. "Our teams include collaborators, leaders, and innovators who continue to build on one shared mission statement – to improve health, instill humanity and inspire hope."
ReThink West Michigan is a part of a larger statewide effort that is the Back to Michigan event series. The Back to Michigan efforts received two awards in Excellence in Economic Development from the International Economic Development Council in 2021.